We finally went playing on the street – Sheinkin st., Tel Aviv.
Yaniv cajón       |        Itai accordion       |       Elad bouzouki      |        Ohad guitar
It was a great fun and we are going to do it again for sure. We had some funny moments when people really flattered us about the music and rhythm, and one awkward moment in which the beggar that was begging on the same street just a couple of spots away from us, gave us a couple of coins. We looked at her amazed when she did that.
In one hour of playing we made around 100NIS, that we all decided to invest in gas money for Elad (he is coming with a car from another city) and also he tore a string in his bouzouki, so he had some expenses due to this gig. Oh, and most important – Ohad found us a name – "Lehavot Habalkan" – meaning flames of Balkan (plus, there is also a kibbutz with a similar name called "Lehavot Habashan").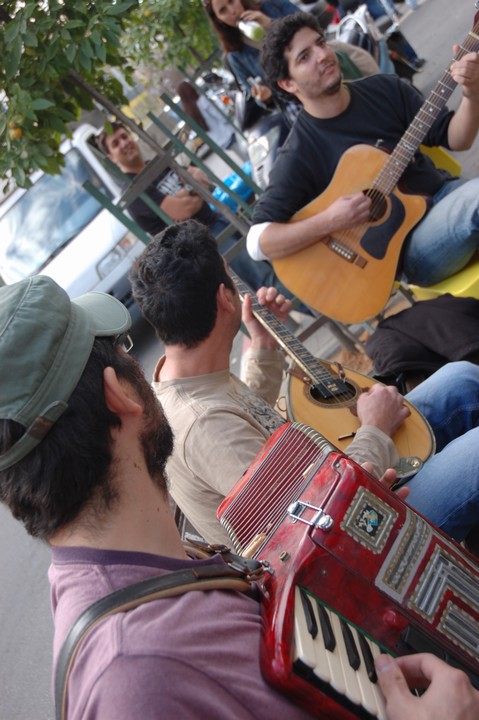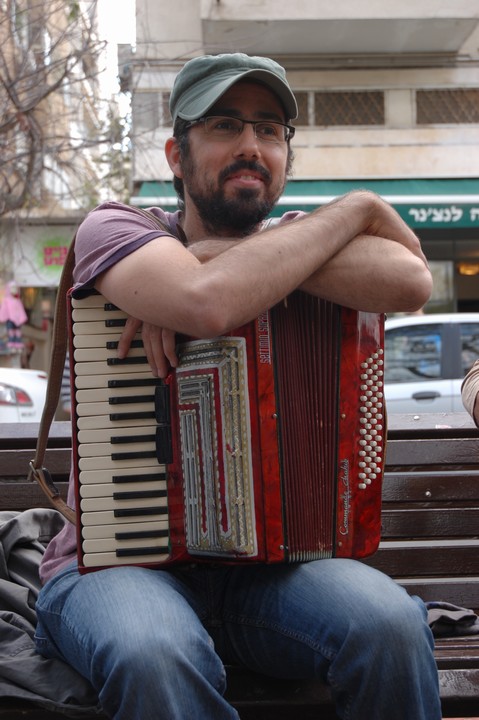 [photos by Maddie]
Here are some videos and photos from the gig:
and also some rehearsals recordings: חזרה ×¨××©×•× ×": [audio:rehersal\1.mp3] [audio:rehersal\2.mp3] [audio:rehersal\3.mp3] [audio:rehersal\4.mp3] [audio:rehersal\5.mp3] [audio:rehersal\6.mp3] חזרה ×©× ×™×": [audio:rehersal\2\1-sigal.mp3] [audio:rehersal\2\2-erev-Ironi.mp3] [audio:rehersal\2\3-mimi.mp3] [audio:rehersal\2\4-ialdati-sheli.mp3] [audio:rehersal\2\5-nightArc.mp3] [audio:rehersal\2\6-AniEshtagea.mp3] [audio:rehersal\2\7-HolechBatel.mp3] [audio:rehersal\2\8-pilpFiction.mp3]