We had a busy Hanukkah:
made sufganiyot, got a great Hanukkah Menorah, had a few candle lightings with good friends…
We didn't bring with us a Menorah for Hanukkah; who could think of that way before we came?…
As Hanukkah was nearing I got upset and sad we didn't have a Menorah – back home we always light candles on Hanukkah….
So we posted a "wanted" add on Freecycle – the newsletter where people who want to get rid of things offer them for free.
A lovely young woman named Melanie answered and said she recently married and since they got a new Hanukkah Menorah she no longer needs her old one. It's an electrical one, she said, but if we'd want it, we are welcome to have it.
We gladly agreed although were a bit disappointed it would be electric. It sounded a bit… odd. Little did we know this would turn out to be a magnificent Menorah…
We picked it up the traditional Freecycle way – porch pick up. This wonderful Melanie gave us a most beautiful and impressive Menorah, with all the accessories, an adorable Happy Hanukkah candle set and a heart-warming card wishing us Happy Hanukkah. It was absolutely wonderful.
Thanks, Melanie, for making this a real Hanukkah for us. We will keep your Menorah and always remember your kindness!
The candle lighting celebrations started with a wonderful candle lighting at Julie's.
It's always fun at Julie's… She makes for Christmas the oddest thing – squared eggs. It was yummy like a normal egg, but didn't dance around the plate… And she has the most wonderful Hanukkah Menorah (hanukiya) – a real statue with so much presence.
We even learned how to play with the dreidel (svivon); it's a gambling game, with chocolate money!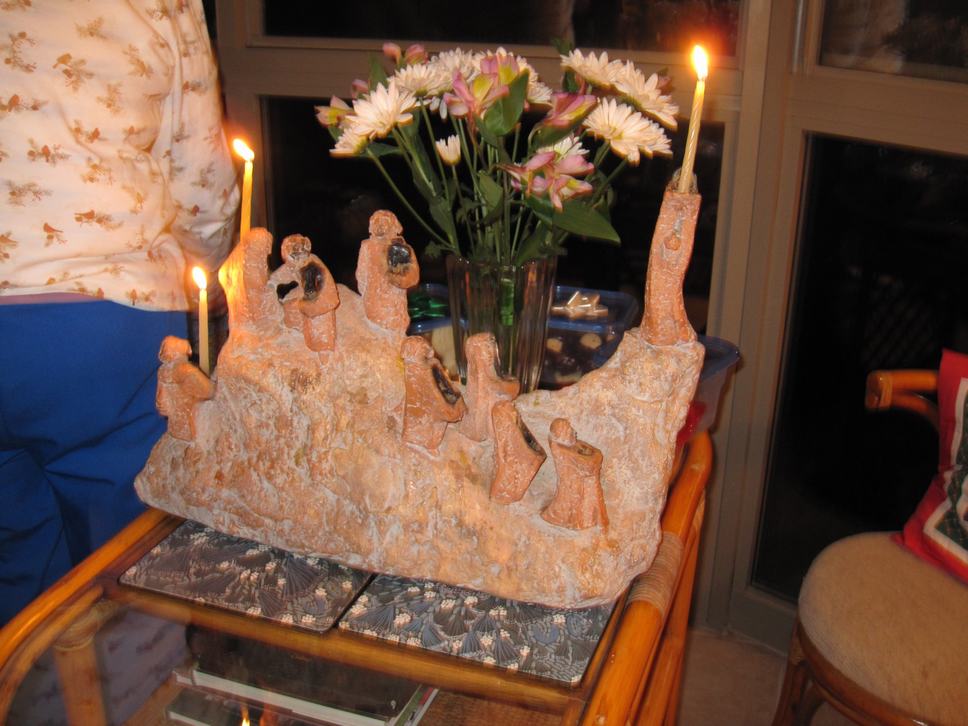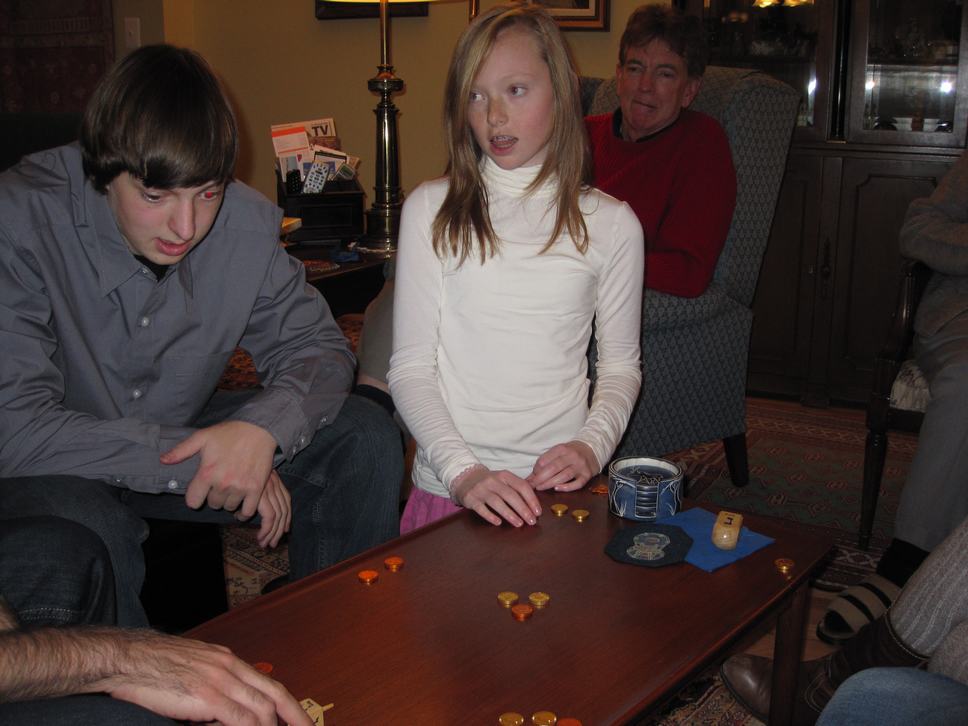 A few days later we invited good friends (the grown-ups evening) for a candle lighting and some traditional sufganiyot.
We made the regular ones and also Moroccan Sfing, which was so much easier to make and soooo good. It was a lengthy process, but worth it.
Most of our guests had not been to a Hanukkah candle lighting, so we gave a full performance of sufganiyot and singing and blessings.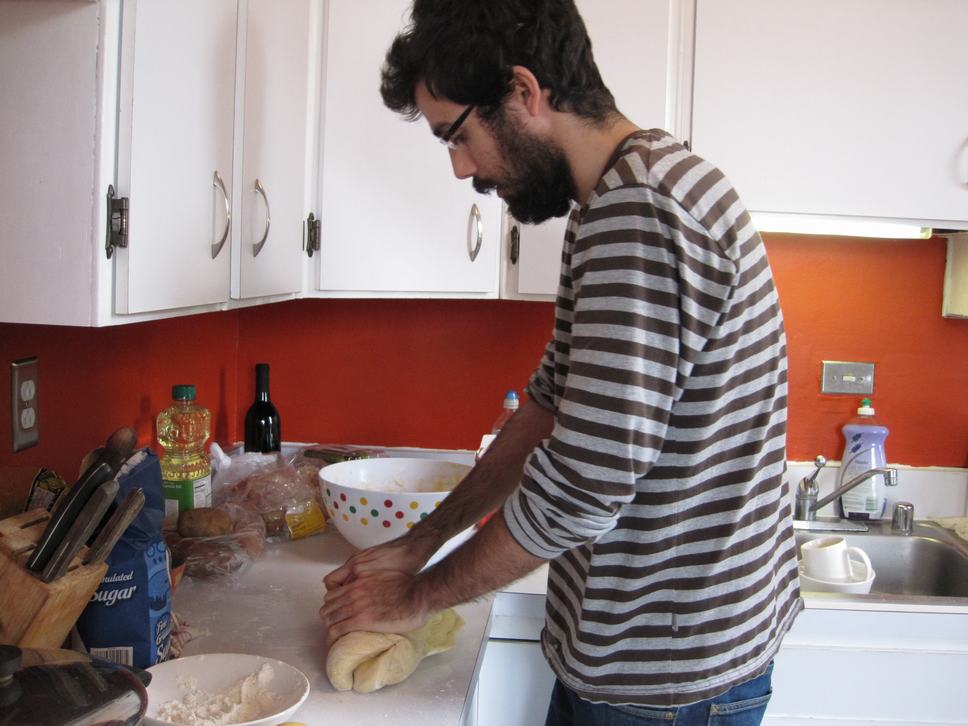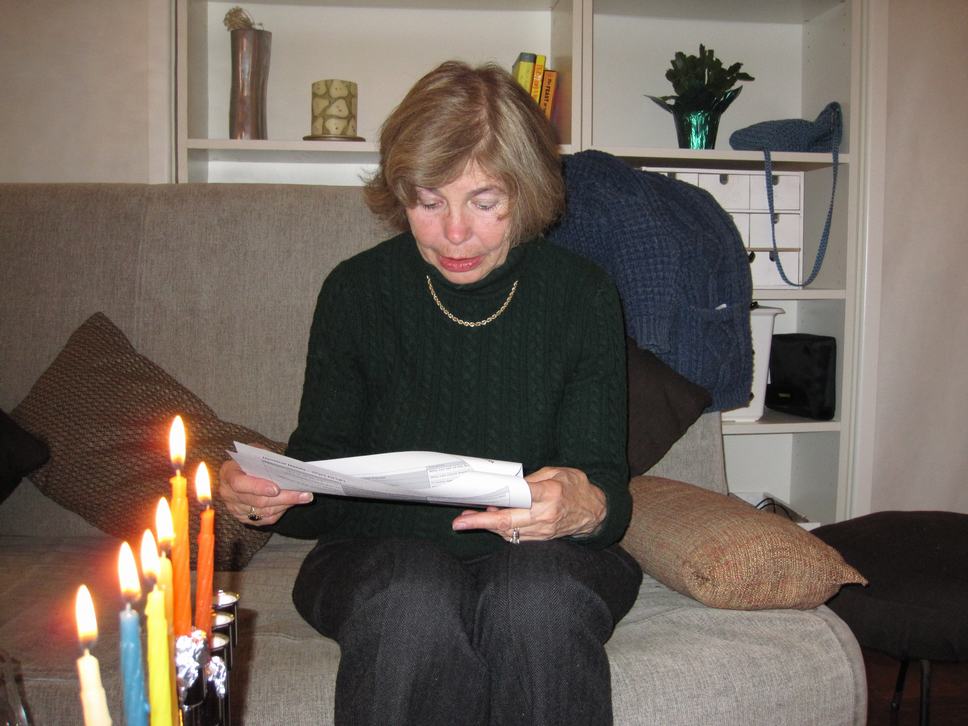 The next day we did a re-run for some of our young friends – again with the sufganiyot and the singing. It was great fun and everyone played along nicely.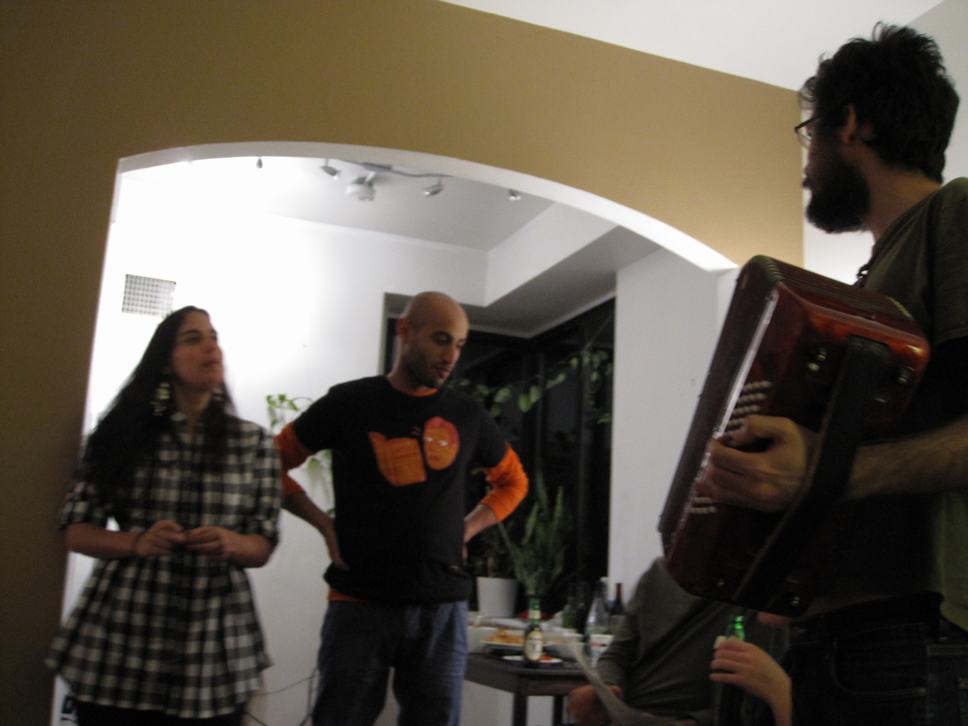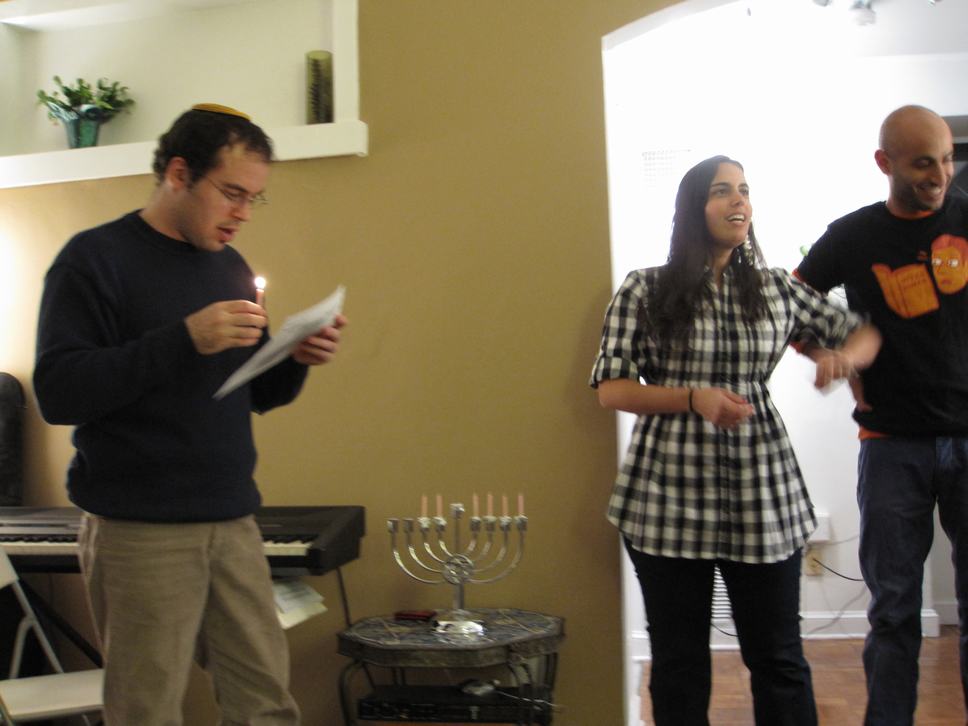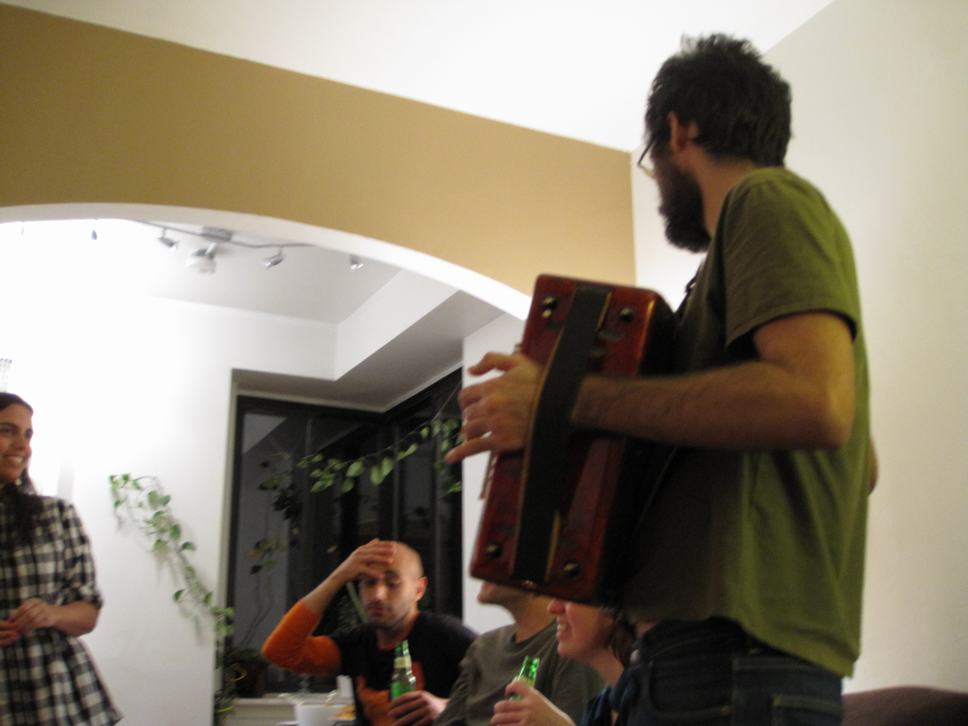 We also had some Skype candle lighting sessions with my nieces and nephews in Israel: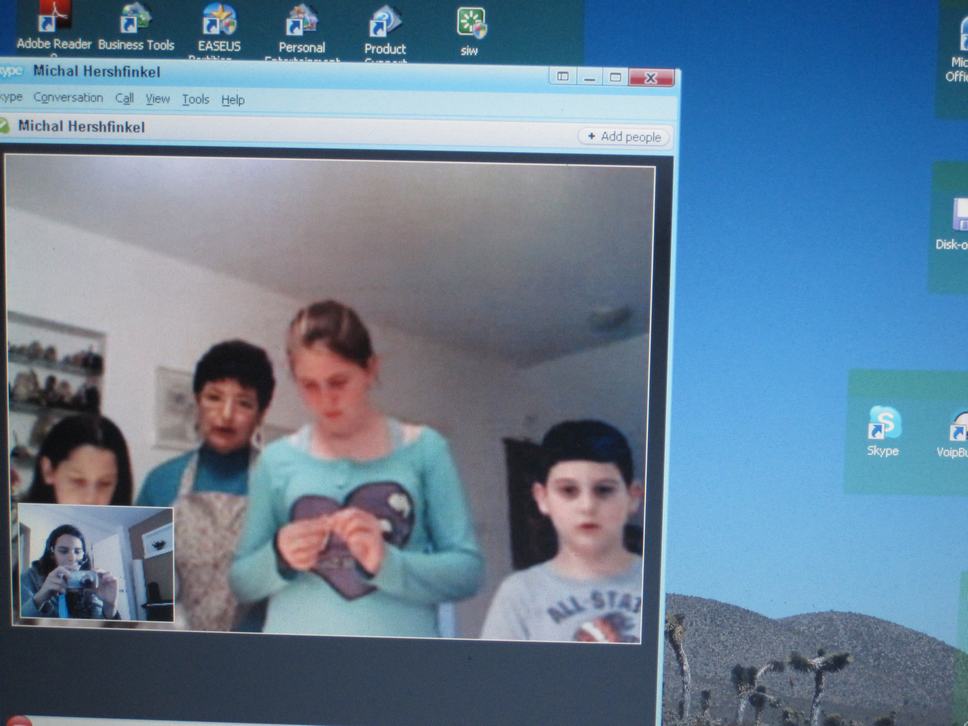 And on the last night of Christmas it started snowing and has been snowing all night and all morning, with no signs of stopping. A beautiful white Hanukkah!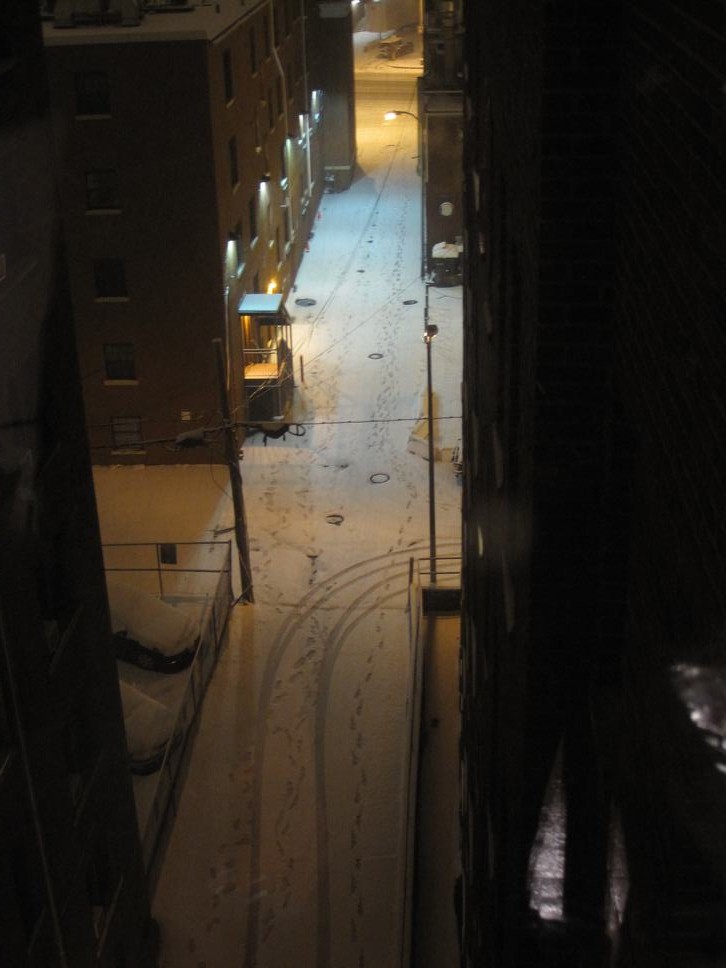 (kinda ruined some plans but we'll re-schedule and meanwhile play in the snow!)