Avi and Regina planned on going to Boaco for a couple of days. Avi has a Peace Corps. friend who is finishing his two-years service next week, and since he'd not been to Boaco, they wanted to check it out while they still had someone to stay with. We asked if there was anything interesting in Boaco, and although Avi didn't offer an exciting answer, we gladly joined them.
Boaco turned out to be a  lot of fun, and on the way back Avi and Regina took us on a great tour of the area. So there's nothing interesting in Boaco, perhaps, but we had a great time nonetheless.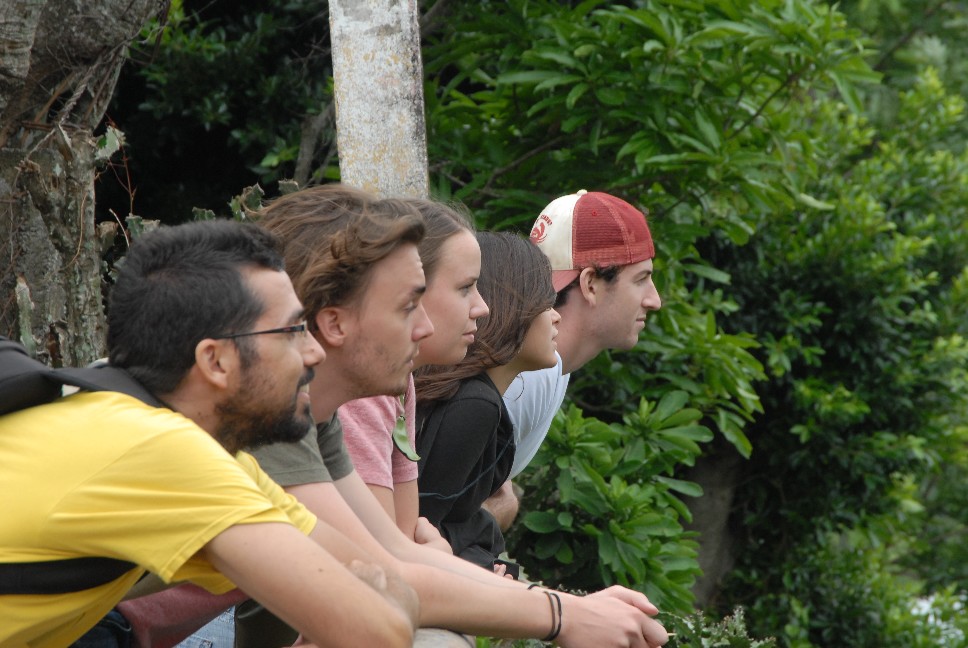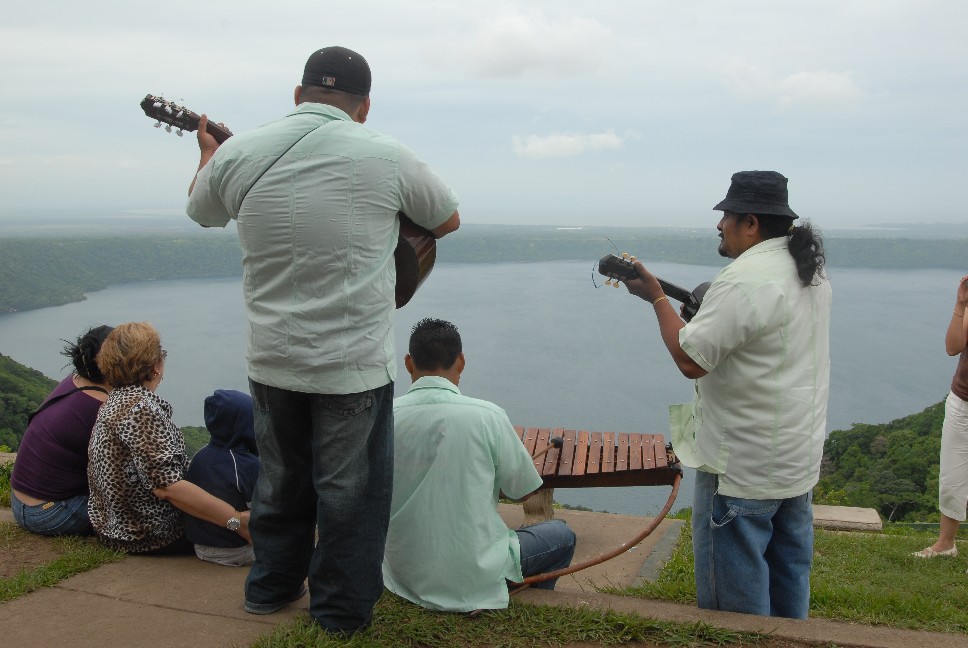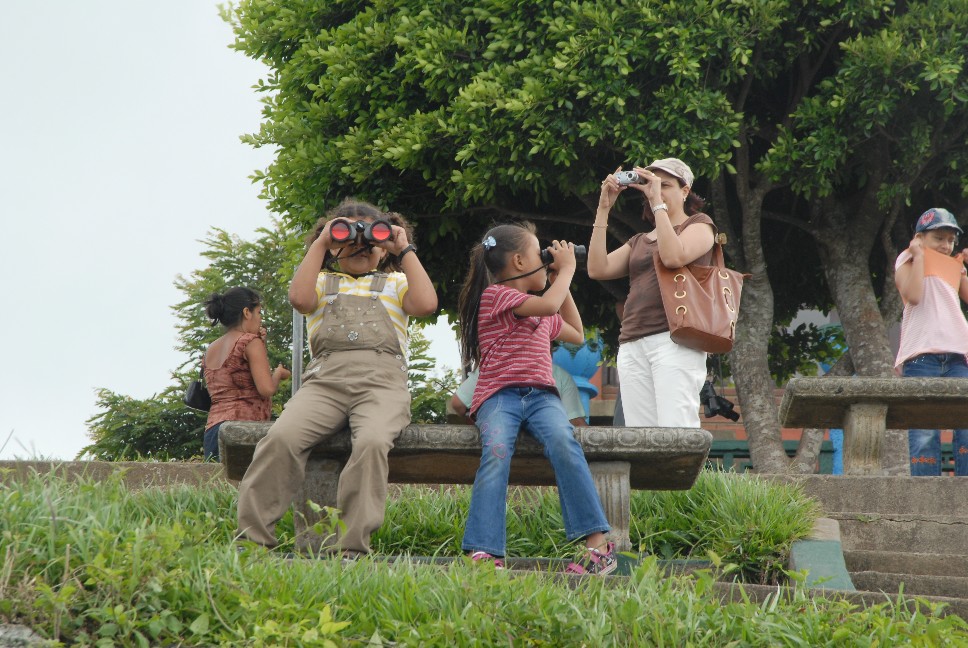 So we left for Boaco late in the morning, after spending a few internet hours on arrangements and formalities we had to take care of.
The ride was nice and we got to Boaco early in the afternoon. Jason, Avi's friend, lives right near the city-center, in a little train-cart apartment (long and narrow, one room following the other). It's a really nice place, with water service occasional but a warm feeling, even though Jason had already gotten rid of most of his stuff, since he's leaving next week.
We walked around Boaco a little with Jason, and along with Nicky, his girlfriend, we had a nice late lunch. Indeed, there's not much to see in Boaco, although the surroundings are pretty and the town is nice. Avi and Jason and Nicky told us a lot about the Peace Corps., and we had a great time just hanging out with them, and with Suzie and Justin who also came to say goodbye to Jason.
Late in the evning we prepared dinner – we made Itai's mom's pasta and chick-peas. Cooking for eight people prooved to be difficult, and it took us a really long time. When we finally ate it was almost 23:00, but it was really good; Itai did a great job. We went to sleep late, most of us on the floor in different parts of the almost-empty apartment.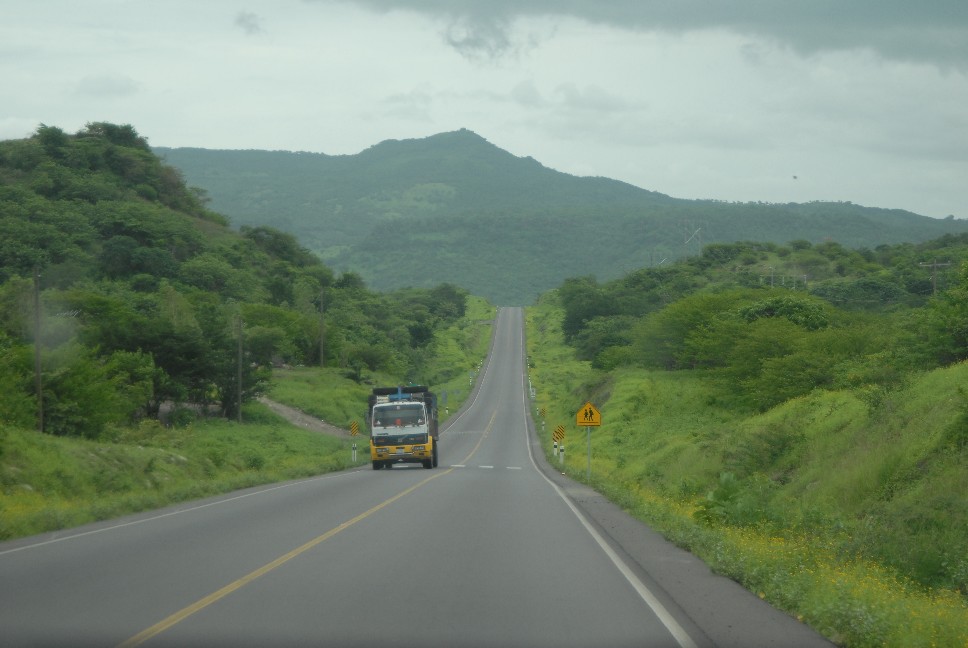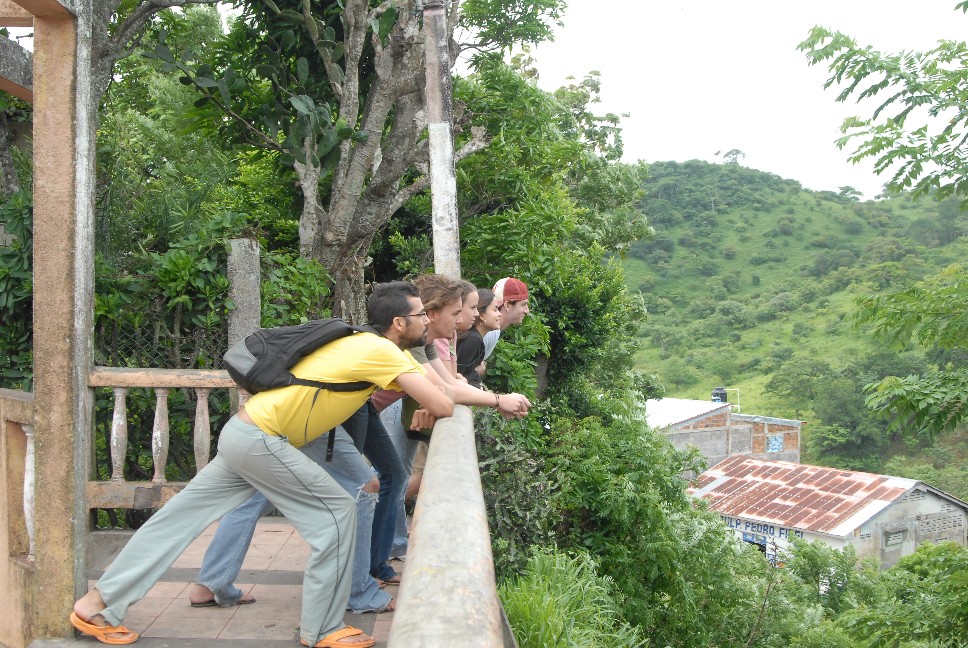 The next morning Nicky and Jason made us all oatmeal, which was perfect for the cool and windy morning outside. We headed back just before noon along with Jason, who needed to get to Managua, not before stocking the car with some board-games Jason gave to Avi (Connect-4, Clue – all in Spanish…). Avi and Jason got into a serious Connect-4 tournament on the way, while Regina admired the "Operacion-Simpsons" game.
On the way we saw a lady on the side of the road, holding an armadillo for sale. Apparently, they eat them… Since we've never seen an Armadillo up close, we pulled over and asked if it would be ok to photo it and just stare at it. The poor little thing was still alive, and it is by far the strangest animal we'd ever seen.
Since we hadn't been to the Masaya market (Masaya is a town between Managua and Granada famous for arts and folklore), which is supposed to be nice, Avi and Regina took us. It's a super touristy market – there's even a DHL there; just buy as much as you want and you don't even need to carry it with you on the plane!
We saw some lovely pottery and considered buying some for souvenirs, but Avi said he knows where this pottery is made and that we could easily go there and buy straight from the source. Of course, we agreed and not twenty minutes later we were at Pueblos Blancos – a group of little villages, all with white churches (hence the name), each specializing in something (Avi did his Peace Corps. training here!).
Our first stop was San Juan de Oriente; specialty – pottery. We spent some time at one of the family-stores, admiring the beautiful work. We bought some amazing pottery (the first souvenirs we bought this trip!!) and just before we left, we went to the back of the store where we could see one of the women making the pottery.
Next we drove to Catarina, where there is a mirador (view point) overlooking Laguna Apoyo, and also lots of nurseries for plants. It's a lovely little village, and the view of the laguna (where we're going next!) is breathtaking. On the stairs overlooking the laguna there are lots of people and some Marimba bands playing.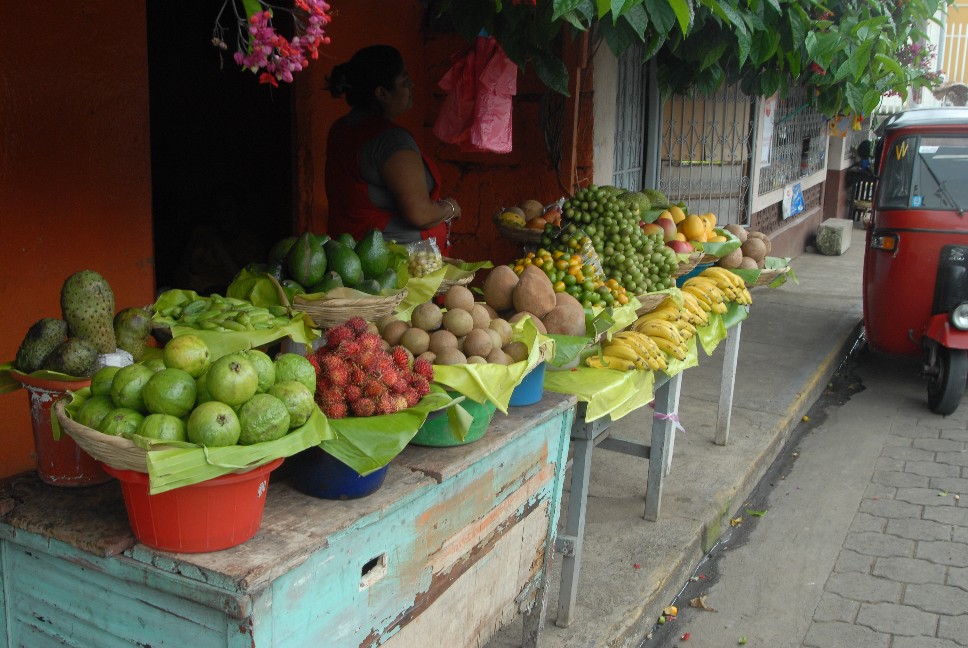 We had a great time visiting Boaco, even through there's really nothing special there; Jason and Nicky were great hosts and Avi and Regina were great company/tour guides, taking us around the Pueblos Blancos.
We returned to Granada for another Pollo Frito meal, wrapped in banana leaves. There's no reason to change a winning formula, we say in Israel… It was delicious. Now we were only waiting for Avi and Regina to hook us up with the "best nacatamels in Nicaragua"; it was closed the day we returned from Boaco, but they had ordered us a few for breakfast the next morning. Meanwhile, that evening, we went out in Granada and tried some other Nica speciality, but we don't remember its name. There are slices of platano, fried into something like a Jewish latke, and on top, pieces of fried local salty cheese. Fried; everything here is always fried… It was a nice snack, but fried…
The next morning we got the nacatamales. They are nothing like the tamales of Mexico or Guatemala – they're huge! The outside dough is good and corny, and the rice is a nice addition, but the chicken in the middle is a little out of place, I think. And it is all covered with grease, which is unclear; why is that even necessary?…
Avi and Regina took it upon themselves to introduce us to as many Nica foods as possible, and they sure did a good job! Although a few days of easy-on-the-tummy rice and vegetables would be required now  🙂