From Antigua we headed to Lago de Atitlan, one of the highlights of Guatemala (if not the main one). The lake had been described by Aldous Huxley as 'the most beautiful lake in the world' back in the 1930's, and this sets some high expectations.
I don't know about 'the most', but the lake and its surroundings are indeed beautiful. There are mountains and volcanoes all around it, and a strong sense of Mayan culture in the villages on its shores and actually, in the whole western highlands area.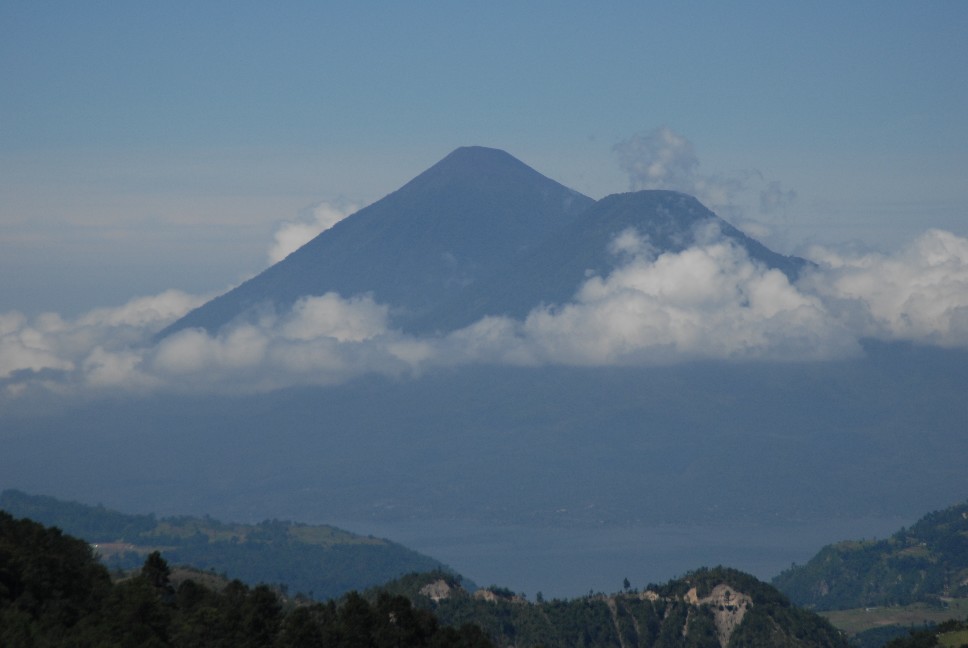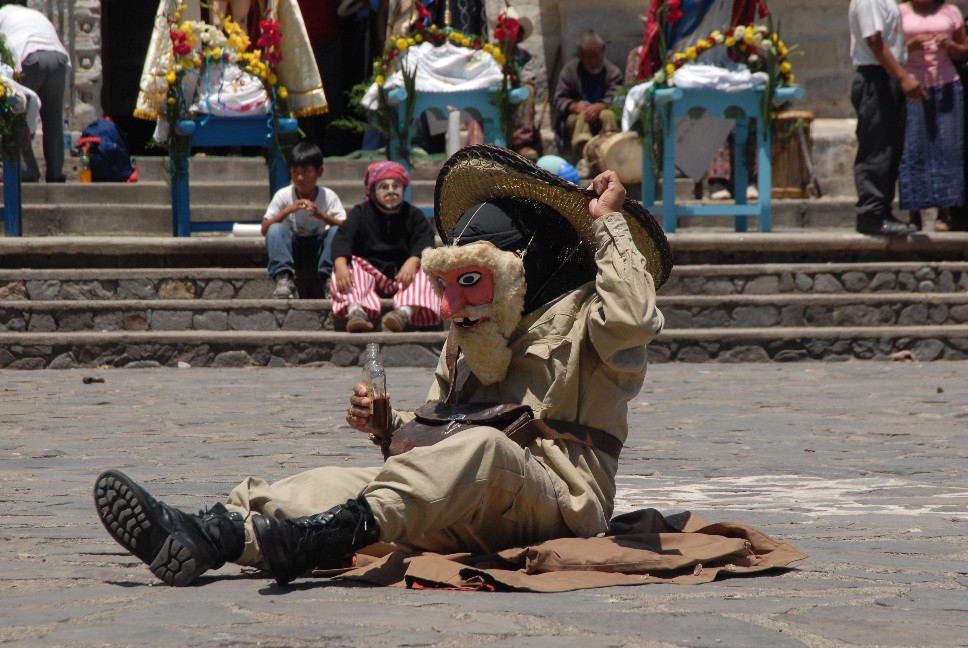 The drive to the lake was surprisingly easy and uneventful, and so beautiful – the highlands are amazing, and many women are wearing traditional Mayan clothes, very colorful and beautifully ornated, the texture and weaving of which changes from group to group.
As we passed the town of Solola, capital of the lake area, we started descending toward the lake. The view is breathtaking, and the huge lake (well, huge in our standards) spread before our eyes, with large volcanoes and clear blue water, dotted with villages all around.
We arrived at Panajachel just before noon. Pana is a big tourist stop in the lake area; it's a nice little lake-side town, with tiny little streets (so hard to drive through with a big truck like the Kindras have..), and a distinctive 'tourist area'. We separated from the bulky-Kindras, who drove to find their host, chocolate Bob, just outside of town. As we were walking in town around the church, we realized there was some kind of celebration – a kind of semi-improvised show was performed in front of the church, and many people were dressed up in funny looking costumes. We stayed to watch the show for a while, but couldn't understand what was going on.
After walking around town a bit we met with Pablo, our host. Pablo is a very talented musician who lives close to the lake shore with the sweetest little puppy – Maya.
Pablo and his friend explained to us what the celebrations were all about – the town is honoring its patron saint, San Francisco de Asis. On our way to Pablo's house we saw a parade, featuring all the stars from the church-front show we had seen earlier.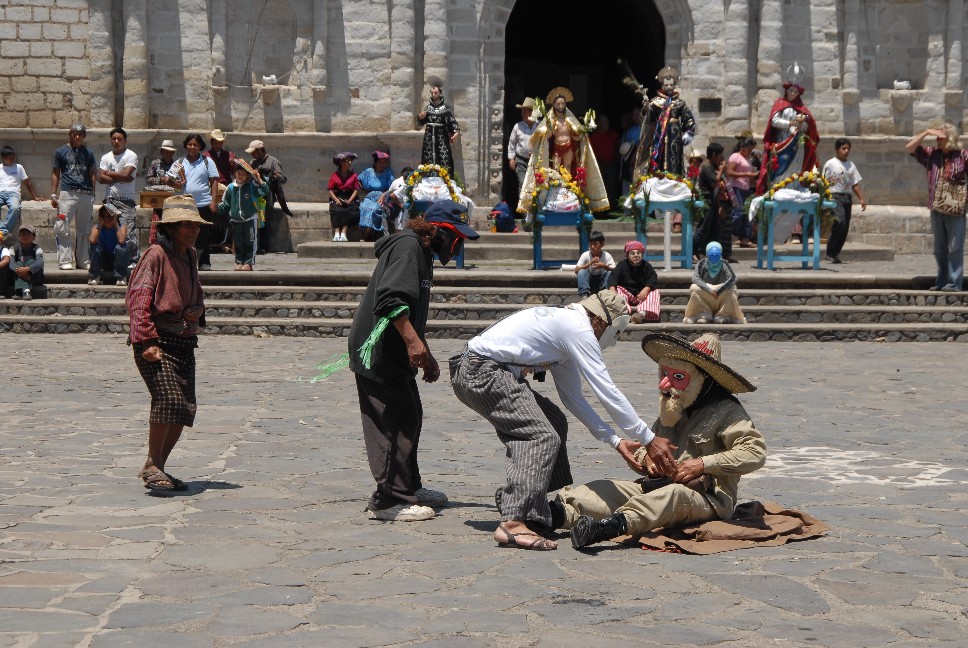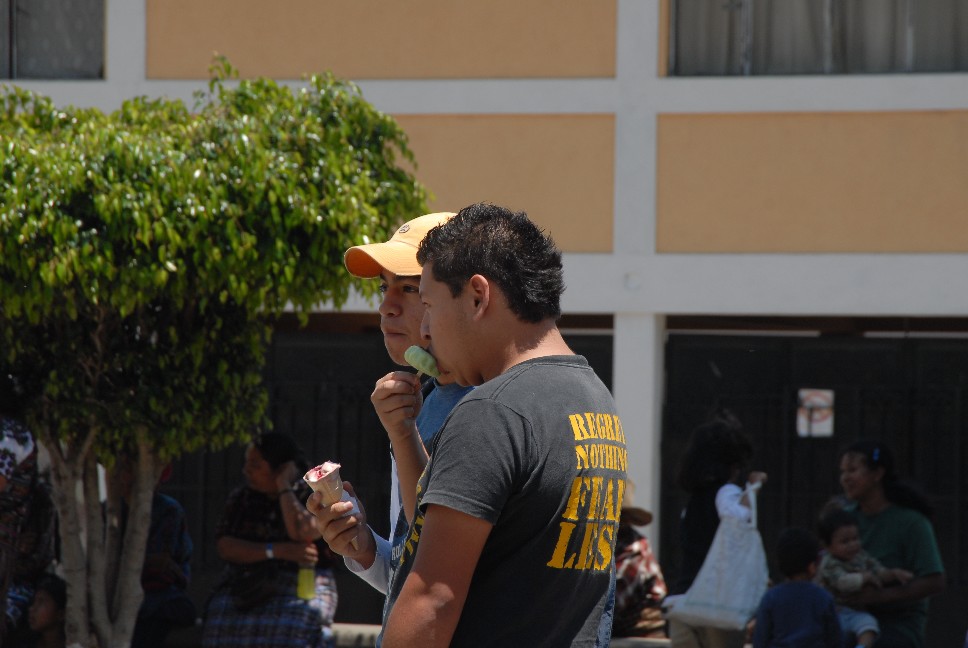 The strong Mayan culture in the highlands and lake area is mostly evident in the clothes – not only the women wear traditional "huipiles" and other clothes, but some men, usually older, as well. The traditional clothes are expensive to make and purchase, and most Mayan men opt for western-style, cheaper and more convenient perhaps, clothes, while the women still wear the traditional outfits ("traje tipico"). Here in the western highlands, men with magnificent traditional outfits can also be seen – heavy fabrics, complicatedly embroided, ankle-length pants and another waist-length skirt-like garment.
The best place to see these outfits, although sometimes overwhelming with colors, is the market. So the next day we drove back up from the lake to the Solola market, which is one of the big and important in the region, with indigenous people from neighboring areas coming to trade. The market was extremely crowded and it was difficult to walk around, but we got some good views sitting outside, near the church. It is a bit uncomfortable to take pictures, as we know locals are sometimes unhappy with it, but it was very beautiful and colorful.
As we wandered around near-by villages, and even in Pana itself, it never ceases to amaze us, how great the differences in such touristic areas can be. The lake area is so beautiful and attractive that many 'gringos' make it their home, and there are of course many tourists in the bigger, more "organized" centers such as Pana. It is surprising, sometimes even disturbing, how luxury hotels and super-fancy villas are situated literally side-by-side with tin shacks; a third of indigenous children in the lake area suffer from malnutrition, but there are so many great restaurants around…
This was very apparent in Santa Catarina Palopo, where we visited one day. But Santa Catarina has has another interesting (and disturbing?) story; the traditional zig-zig design of the fabrics used to be red, but in the 1970's a north-American visited and commissioned this design in purple, blue and green, and since then these are the dominating colors in the village. It was strange to look at all the women and think of how these colors came to be dominant.
We planned to leave Pana for San Pedro on the other side of the lake on Sunday morning. We "ran" into a church parade, which blocked our way but was very interesting to watch. Pine tree leaves and flowers lined the street and the church parade was slowly making its way, stopping all traffic. As the parade passed, two men and a truck were picking up this natural carpet and cleaning the street.
Surprisingly enough, as we made our was towards San Pedro we saw another kind of parade – there was some kind of athletic competition, and people were jogging downhill (with no protection from oncoming traffic!).
The drive to San Pedro was, again, beautiful, with amazing lake views. San Pedro itself was a bit of a disappointment to us; it's a nice little town, very touristic, with nothing interesting to offer us. It's the same lake to look at, but there's a big difference between the lake view from Pana and the lake view from San Pedro – from Pana you can see the two volcanos on the San Pedro side and it looks very scenic and impressive, but when looking from San Pedro itself towards the lake it is less breathtaking than from Pana.
To top it all off, in the evening, as we were getting ready to go to bed, a group of young Israelis positioned themselves smack in front of our room, with a little stereo system playing Israeli music. They were very loud, sounded like they were IN our room, and at one point we asked them to find another place to lounge at. I suppose that if one is looking to find company, San Pedro is a great spot, but since we weren't, and we've seen enough of the lake at the more-chilled-out Pana, we stayed one night and then said goodbye to Atitlan.