From Coban we headed to Antigua, the old capitol of Guatemala, just outside of Guatemala City.
To get to Antigua we had to pass through Guatemala City. We feared this, as we imagined Guatemala City to be a bustling place, with many vehicles and traffic, and the lack of decent road signs in Guatemala in general was not promising…
Little did we know that passing Guate City won't even be our greatest challenge that day…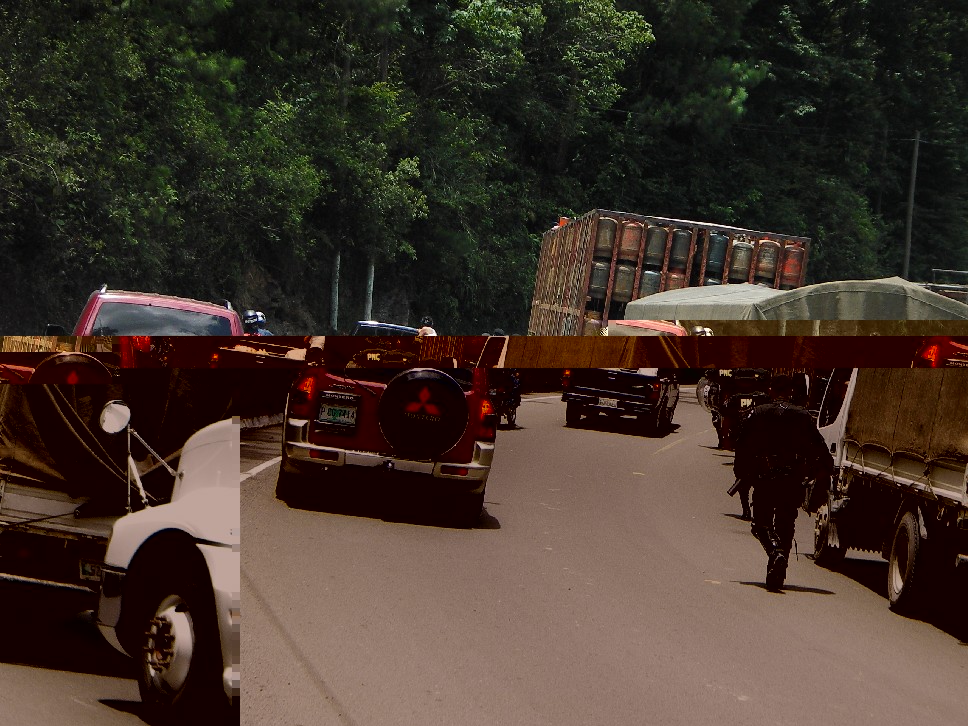 We left Coban early enough, knowing we'd have lots of time to get to Antigua, which was not too far away and on a good road. The road was actually very good, but not 20 minutes after we left Coban we were stopped – on the windy road up a mountain, all the cars just stoped. Some people were walking between the cars, selling drinks and snacks, and they told us we'd be stuck there till around six. "Seis de la tarde??" (six in the afternoon??); "Si.."  WHAT??
Well, in the end it only took about three hours, in which we were litteraly sitting in the car, walking around, snacking… Itai went up the mountain to see what was going on – there was a big demonstration blocking the road, and no one knew how long it'll be.
After three hours the police came running up, and soon enough we were on our way.
After only another hour driving, we were stoped again. This can't be happening! Another demonstration? No, just road works, blocking the road. We waited for another hour in the car. This time we had lunch… The cool mountain air we so enjoyed while driving wasn't blowing anymore, and sitting in the car in the sun wasn't fun…
The road was finally cleared for us to cross, and we continued on our longest journey from Coban to Antigua. And we hadn't even reached the part we feared most – crossing Guatemala City!
By the time we got to Guate City, it was again getting late in the afternoon, and although Antigua is a short drive from the City, we feared we'd get lost crossing it. Kindra, our super-duper city-navigator, navigated us through and we were soon in Antigua, just before dark!
Antigua is a small colonial town, surrounded by volcanoes. It used to be the capital of Guatemala, and a Spanish administrative center for most of Central America. The 1773 earthquakes demolished the city, and the capital was moved to modern Guatemala City. Many colonial buildings in Antigua are still ruins, but this gives the town an interesting atmosphere, I think.
We arrived in the evening, and found it difficult to find a hostel that would agree to have a dog. Eventually, Kindra talked the nice lady at Ummagumma, promising that the little menace is a quiet little "perrito" (doggy), "muy tranquile". Well, he really is.
The market in town is very nice, and so are the cobled streets (nicer in pictures than when you have to walk or drive on them!). But the best spot was high on an observation point where we could see the whole town and the surrounding mountains, as well as a special bonus one morning – we saw one volcano with smoke coming out of it!
When we were walking along one afternoon, we ran into an old amigo – Crisanto! The 11-year-old that was our guide in Lanquin and Semuc Champey. He was happy to see us, and told us he was there working at a tourist office, handing our brochures on tours. Itai immediately questioned him about school and why he isn't going, but it's the three-months summer vacation now! It was nice meeting this cute boy again.
Antigua is nice and relaxing, but a little bit expensive. We were warned not to leave the truck parked in the street at night, and so we had to pay at a guarded parking, which wasn't all that cheap! But the annoying thing is that we were being ripped off – we parked the car there three nights; the guy who was working on the first two nights charged us 40 Quetzales, but on the last night there was another guy, who only charged 30 Q… Damn…  Oh, and during the day we needed another parking permit – 10 more Q's per day…
Besides the parking fees, prices are a little high, as it is one of the most touristic places in Guatemala. But it is very beautiful.
[IMG-pics – courtesy of the Kindras]