Our next stop was Lanquin, where we had planned to camp by the cave.
We checked out the map the night before leaving there, and as the road looked good, and it was only 200 km, we started out a bit late in the morning.
The road turned out to be the shittiest road in Guatemala, through tremendous mountains and tiny trails, and it lasted forever. When it started getting dark and we were still some ways away from our destination, with nowhere to camp on the way, we got a little nervous…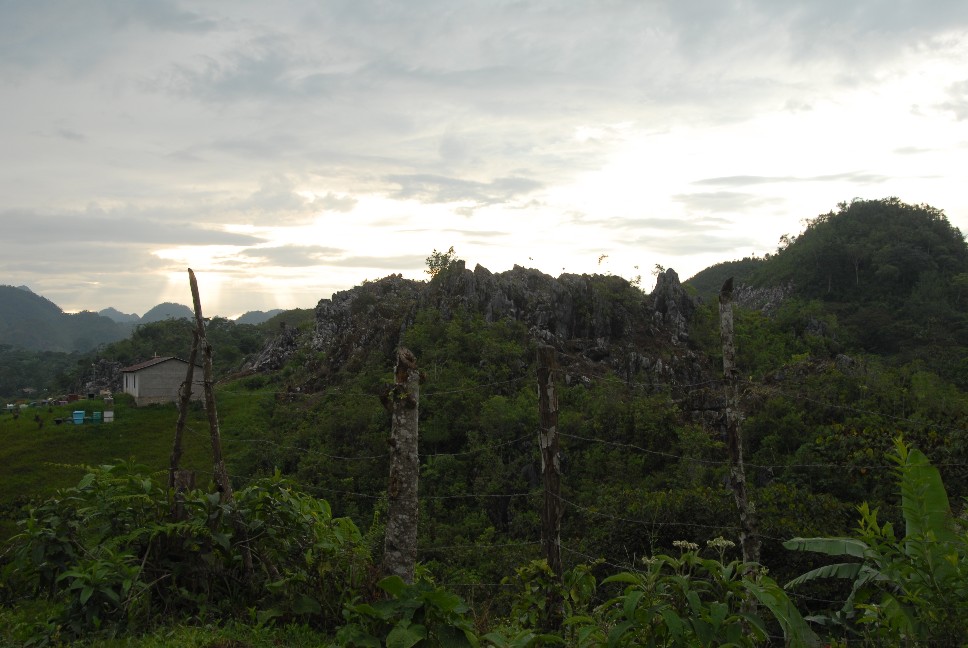 So the drive to Lanquin took us 8 hours, much longer than planned…
When we started out, the road looked fine. Things took a turn for the worst when all of a sudden we were forced to stop, because a river went OVER the road. The rainy season hadn't started yet, so it can't be a fload. Probably just a river.. a few hundred meters and then the road continues. And there's a tiny little ferry that goes back and forth. OK….
After this, the road wasn't anymore too good, and soon enough, we were driving way in the mountains, through very little tribal mountain settlements, where people looked at us as though we were crazy (some where just the regular looks that John and Kindra's camper receives, but some where stranger than usual). The road was very difficult – not only was it in very poor condition, and a little wet, but there were many mountain-road-curves.
Everytime we stopped to ask if we were on the right way, we got answers that proved incorrect. We soon realized that it's usually "just 30 minutes away", but the road wasn't showing any signs of ending.
It was getting later in the afternoon when we suddenly realized that the Kindras' front tire was flat… We stopped in the middle of the one-lane-road, and John fixed it with some green goo. Meanwhile two cars where waiting behind us, unable to pass us, as the road was so narrow. They were super nice and assured us that Lanquin is only.. yes, "30 minutes away"…
As the sun started setting we (mostly I) got worried. It didn't seem like the best road to be on in the dark, especially since it was impossible to know how far we were from our destination..
Well, after another 30 minutes we reached a cross-road with a sign (the first one we'd seen all day!) to Lanquin, and we were assured by the nice people sitting there that it's just 5 km more to the cave. Ok, 5 km, at an avarage speed of 7 km per hour… It took about another 30 minutes, but the road was better and we made it to the cave!
The sign informed us that we were at the cave, but we couldn't see anything anyways. We saw the guards and they showed us where we could camp, and told us that soon they'll close the road to the cave for the night. Lucky it didn't take us ANOTHER 30 minutes to get there…
The night was nice and it rained quite a bit, but we didn't mind, as we had a huge palapa roof above to protect us.
The next morning we visited the cave. A young boy was hanging out around us all morning as we were arranging and re-arranging (John fixed the tire, we did an inventory count of our food..). When we went to the cave, he helped us find a place for Wallace to stay, and we took him as our "guide". His name is Crisanto and he is a very nice boy, and we managed to communicate with him using our poor Spanish.
The cave was nice, but not too exciting. I think we've seen enough stalagmites and stalagtites already…
When we got out of the cave, we went to shower in the river that flows out from the cave. The water was quite cold, but it was refreshing. John and Kindra shared their bio-degradable soap with us, which was good because we were well due for a shower.
After the river-wash, we made lunch and invited Cristano to join us. When he heard we were heading for the town of Lanquin after lunch, he asked to get a ride with us as he lives in Lanquin. We were headed further down the valey, to Semuc Champey, and Crisanto said he would come there tomorrow morning. We weren't sure if he was serious…
[IMG-pics – courtesy of the Kindras]