We drove from Crooked Tree to Belize City, but only as a stop-over on our way to Placencia, where Itai had arranged for us to meet with Taka, who lives there.
We got a brief look at Belize City, the biggest city in Belize (though not the capital anymore…). OK, it's another over-grown village… A bit messier, a little more crowded, but still displaying only village-characteristics…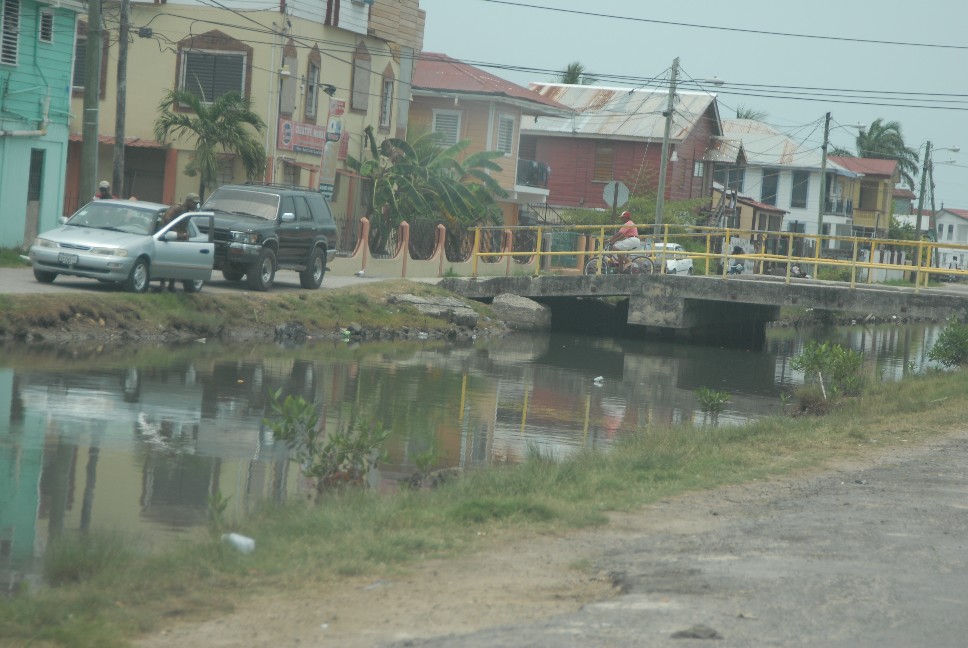 We decided to take what appeared on the map as the shortest road to Placencia, cutting from the Western highway to the Coastal road, and from there to the peninsula. It may be shorter, but the Coastal road is SO bad, that it took us a few hours longer than we expected..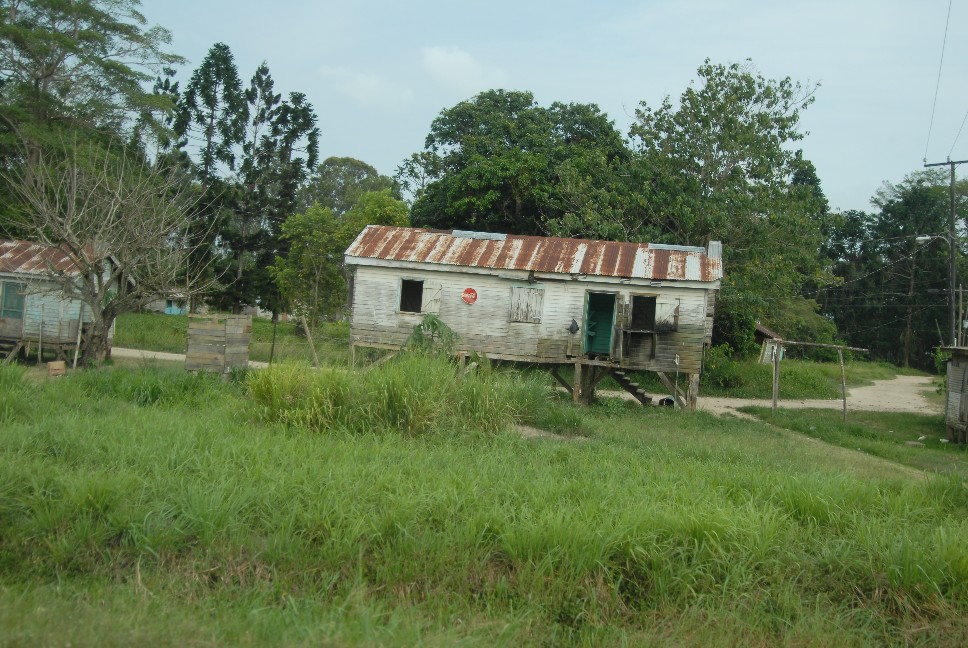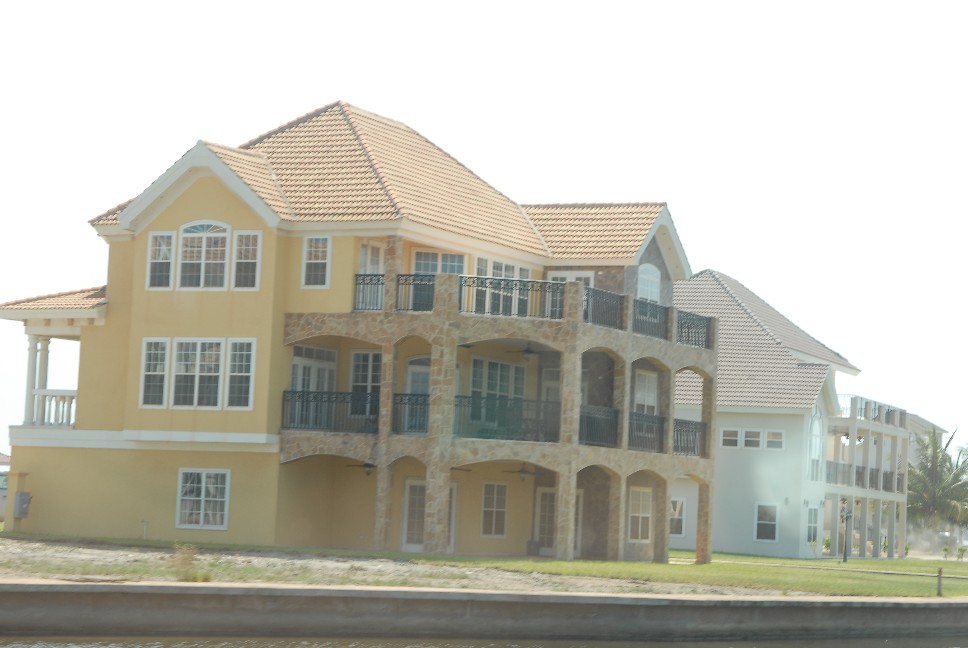 Just as we were getting off the highway and on to the Coastal unpaved road, we asked some guy, just to make sure we're on the right way. "Ya, man, dis de shor-kat. Ya, you go dis away". He was so confident… But the road was pretty bad.
After a couple of hours we were stopped by a stranded car. Funny how these situations always make me feel uncomfortable.. They waved us to stop, and we saw a man and a woman and a young girl. The man explained in Spanish that he needs transmission oil, because a small rock from the road hit his transmission and he lost the oil.
Luckily, Itai stocked on all kinds of car oils, and we sold him the transmission oil we had. Unfortunately, it wasn't enough and he still couldn't start the car. The lady asked if we had any food we could sell them, since they had been stranded there for over an hour, and her niece was in the car with her little baby. We gladly gave them our Mexican tostadas, but since the car still wasn't running, we took with us the young girl and the lady's niece with her baby.
As it turned out, the baby was 3-days old! They are a family from Corozal (the northern most city, on the boarder with Mexico), and were driving to visit family in Gales Point. The young girl's name is Keisha-Ayisha, and the mom is Carol, but she doesn't like her name and is looking for an exotic name to her baby-girl. Her older daughters also have exotic names (one is Jazeera, but we don't remember the name of the other..). She wanted us to suggest names in Hebrew, and they especially liked Noam and Yafa (Keisha really liked that Yafa meant "pretty"…).
We took the girls to their destination, and continued on our way to Placencia, after all the excitement.
The peninsula is the longest strip of sandy beach (so says the book), and Placencia is the small tourist village at the very tip of it. Taka, who we went to meet, lives just before the tip, at Seine Bight, a Garifuna village. We arrived just before sunset, and went to find Taka; he gave us explicits directions – at the big yellow restaurant turn right, and ask for this-and-this at the green and white house, they will show you where to find me. Indeed, this-and-this sent us into the village accompanied by a young man on a bicycle, and he stopped along the way at a few houses, checking if Taka was there. Soon enough, we found Taka…
The Garifuna are descendants of slaves who were brought from Africa by Europeans in the 17th century. A ship carrying slaves crashed on some Caribbean island, and mixed with the island's local population, creating the Black Caribs or Garifuna. They were then pushed onto the Belizean mainland by the British and Spanish colonial authorities, and they are now an important part of Belizean culture.
Taka introduced us to some people in the village, and we drove to see Placencia and had dinner at a really good Creol grub place (Omar's). The next morning Taka and Dean took us on a snorkeling and fishing tour, with two more guys from the US. The tour was great – we snorkeled around the reef for a while, and then got a huge fish from a boat we ran into on the way. Taka and Dean took us to one of the Cayes for lunch; when we came closer we were amazed. It's the tiniest little island, and there are a few cabins right on the water, and a small restaurant area. It's part of a fancy resort on the peninsula (Robert's Grove), and the guests can stay a while on the peninsula, and a while on this island.
Taka made a great lunch – fried fish with an improvised salad of potatoes, corn and coconut milk.
After lunch and hanging out at the beautiful island, we went fishing. It was actually quite exciting! They don't use poles, just fishing strings and hooks and a bait, we which stopped on the way and Taka picked up (small sardines). Taka helped me most of the time with putting the bait on the hook and deciding when it's time to pull back, but Itai managed all by himself and cought him a few fish, and one of the US guys even got a really big one.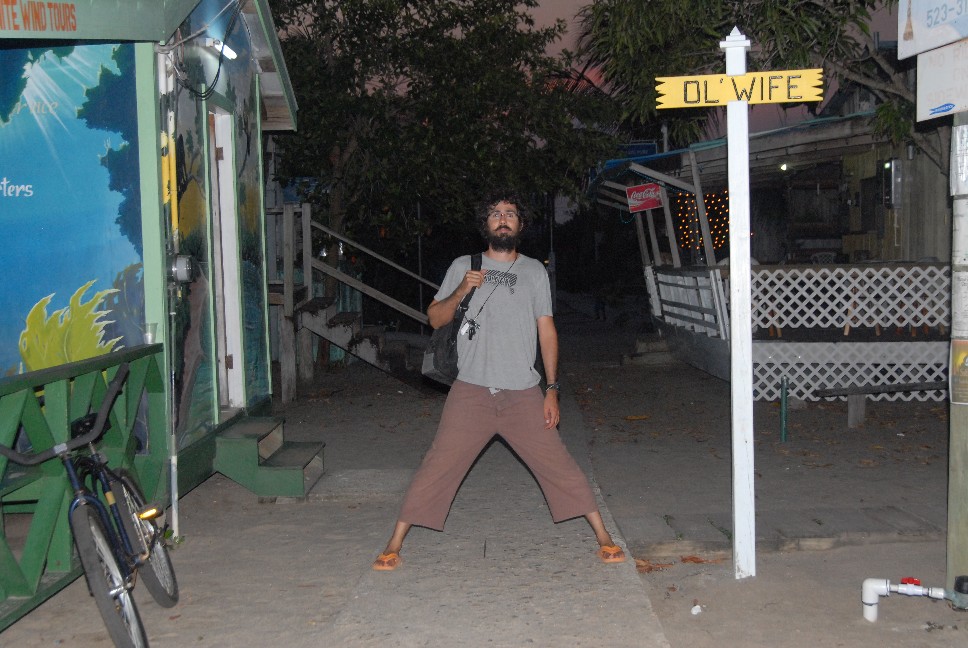 Later that evening, we all met at the US guys' apartment, where they have a big kitchen. Taka cooked again, a more traditional Garifuna dinner of coconut rice and a stew with the fish we had cought earlier and bananas. It was a great day, although exhausting…
When we were on our way back to our room, we saw a little fox crossing the road; it was quite exciting. Earlier that evening Itai witnessed some real drama on the same road, when he went to pick up Taka before dinner. They saw a guy splashed on the road after crashing his bicycle, and he looked like he was hurt pretty bad. Itai and Taka stopped to help, but a civilian-looking police that was passing there picked him up. Taka told Itai that the guy was Guatemalan, probably illegal, and said he did not want to go with the police. Once the police car started moving, he jumped out of it and into the woods, in the dark.
The Garifuna village is so different from the touristy areas of the peninsula. The houses are all little wooden houses on stilts, and everything is very simple and in some places the wreckage of the last hurricane are still noticeable (Taka told us, "don't mention Dean around here; people were hurt pretty bad by it!"). On the other hand, there are some seriously fancy hotels, resorts and apartments on the peninsula, for tourists and some northern-Americans who come to live here in paradise. The peninsula is not very wide, just maybe 50 meters accross at some points, and there are signs offering – 'your home here, ocean to laguna', and we can see why people are tempted to live here…