We drove from Mahahual to Laguna Bacalar, and immdeiately settled in at Casita Carolina. Most places here around the laguna are similar – a big house with a large lawn going all the way to the laguna, a small dock for entering the water and getting to little kayaks, a few cabanas, and owned by Canadians… We camped on their lawn, and if the wind hadn't stopped blowing sometime around 2am (bringing heat and mosquitos), it would have been a perfect night…
The laguna is called "the lagoon of seven colors", and it is indeed colorful; with enough sun you could count a few different shades of blue in it. The fresh water were a nice change from the salty Caribbean we had been swimming in for so long…
The town of Bacalar is tiny and nice, and has a little fort in the center, overlooking the laguna (the Spaniards built the fort to defend from the British bucaneers who settled in Belize and mainly lived on hijacking Spanish ships carrying logwood).
Our next stop is Chetumal, which would only be a port for us all. The girls will spread out and say goodbye to us (Lu is returning to Mexico City for her flight back to Argentina and Konchita is heading back to Cancun, from where she will go to check out Isla Mujeres, on our recommendation, and then home to Holbox). And we will finish all formalities and head to Belize.
But before we got to Chetumal, which is only a 30 minute drive from Bacalar, we stopped at Cenote Azul. So it's the second cenote we've been to by this name, but this one is really amazing! It's an open cenote, so it lacks the charms of an underground cave, but the fact that there are no entry fees and it's beautiful make up for that. The cenote is quite large, like a small lake, and it is 90 (!!) meters deep. To reach it we had to go through the Cenote Azul restaurant, where we sat (there's no where else to sit, really), and you are expected to order food (not only drinks!), but it's worth the expense (and we had to eat anyways…).
Once on the water, we could see the roots of the trees in the clear water, going deep down until we could no longer see them. From the roof of the restaurant people were jumping into the cenote – it was something like 6-7 meters up, jumping into the cenote…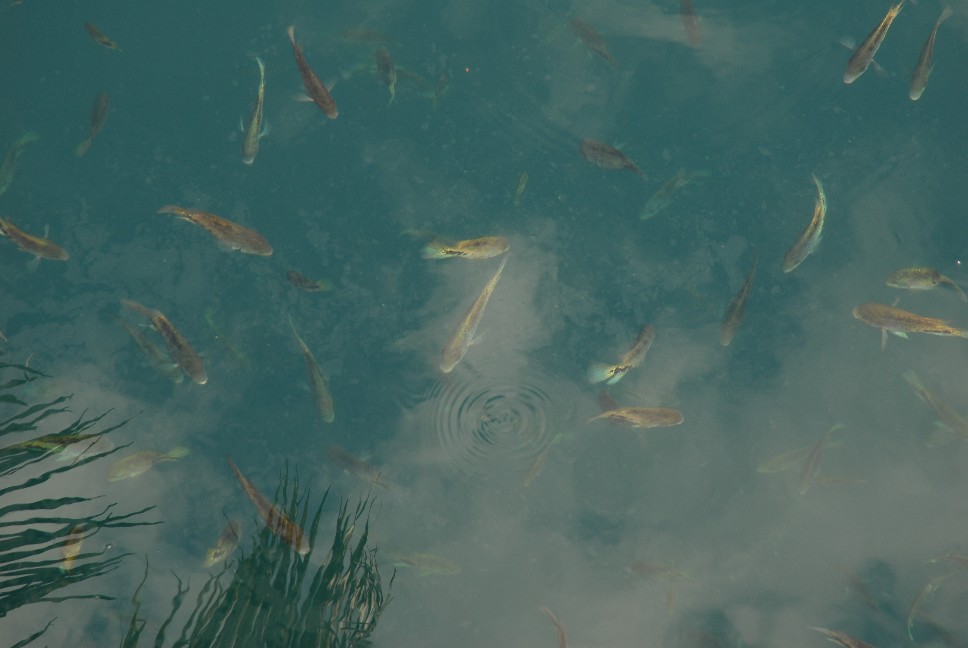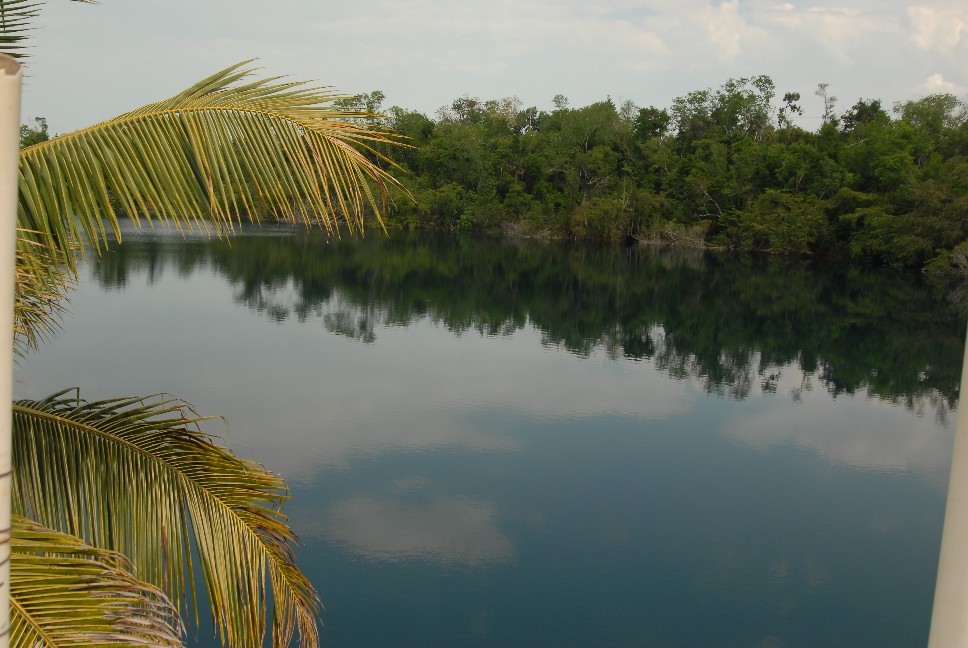 After spending some time at the cenote, we continued to Chetumal. When we slept at Casita Carolina on the laguna, we found they had really good hammocks. Itai snooped around to find out where they got them from; apparently there's a prison on the way to Chetumal. We've heard of these before – in Mexico, prison-made hammocks are considered the ultimate and best hammocks, and they are relatively cheap.
Hammocks are a serious thing on the Yucatan peninsula – since it's so very hot, people sleep in hammocks. You can't just sleep in any hammock – for it to be comfortable, the hammock has to be big enough to allow the person to be streched in diagonal (so that the back and body are straight), and the weave has to be tight enough to hold the weight and not cut through the skin. Some hammocks are realy enormous, and sleep entire families.
So we found the prison, it was hard to miss. The whole experience was surreal. We actually went into the prison, where we saw the visiting area, and a few prisoners were showing us the hammocks and trying to make a good sale (while enjoying the company of us girls coming to visit…). When Konchita asked for a green colored hammock, one prisoner ran out and soon returned with many other colors. We giggled, imagining him kicking some prisoners off the hammocks – 'move it, we have customers and they want a green one!'.
We bought a really nice and huge hammock (black and red, for lack of other interesting colors), better than the ones we got at hammock-capital Merida, for almost the same price. Later in Chetumal Itai slept in it and it is really comfortable (well, considering you're sleeping in a hammock!).