Mahahual was our next stop heading south of the Mexican Caribbean coast. It's much more touristy than Punta Allen, and in that sense it is more pampering, but after having enjoyed Punta Allen's ruggedness so much, we though we wouldn't like Mahahual and would probably move on shortly.
As always, it is the people who make or break an experience of a place. In Mahahual we stayed at Nacional Beach Club – it offers something like a boutique cabana, with a nice restaurant-bar, but inexpensive. The best thing about the place were the owners – Evan and Ana (respectively from the US and Chile – they met in Mahahual). They were both so cool and welcoming, that we ended up hanging around at their place longer than planned, and had a great time with them.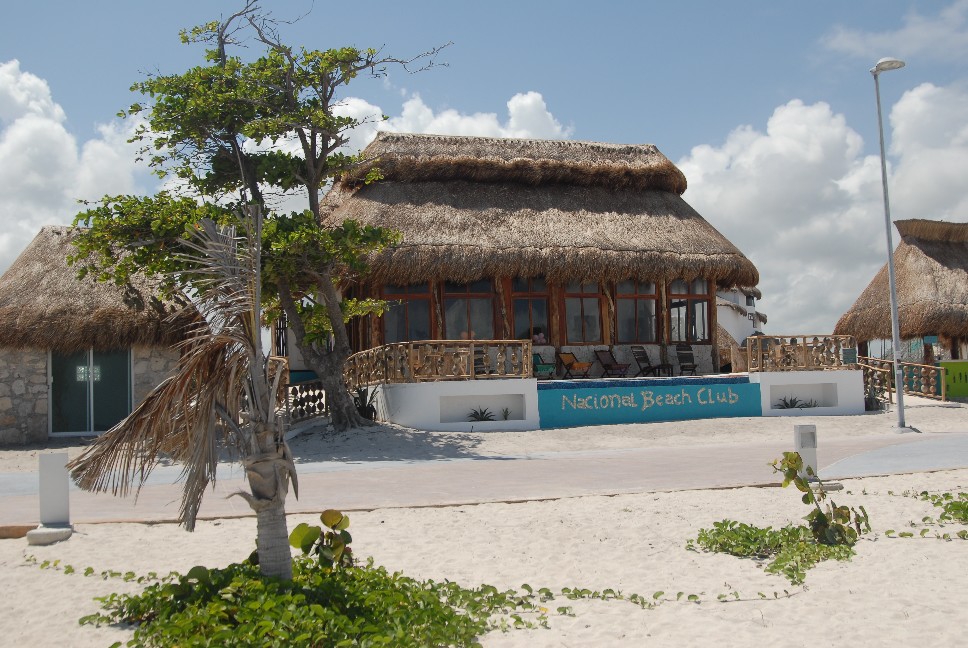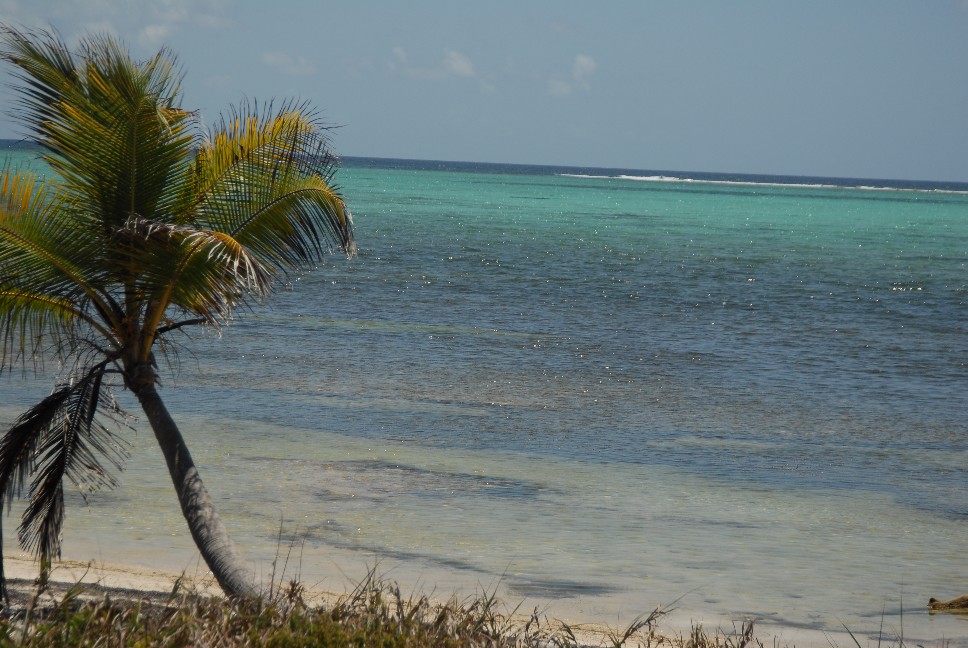 Ana makes really good food (they compiled a list of the ingredients they still had, and she fixed something up from everything any time someone ordered something), and Evan is just full of storied of cool places he's been to. We had the honor of also witnessing little Juli's birthday (she's the daughter of a German couple who were also staying at the Club), and Ana and Evan made a killer choclate cake for the event (this little Juli had eatten up all the stock of ice-cream they had, Evan told us..).
On our last day there, Evan and Ana hooked us up with Senior Jorge, their friend. He is an old guy who lives not far, and he took us on a snorkelling tour on his boat and we visited his house and heard stories on fish and the Maya and what not.
From Mahahual we continued to Xcalak (pronounced ish-ka-lak, although the "i" at the begining is not pronounced heavily so it can also sound like sh-ka-lak). We heard nice things about the place from a girl we met at Punta Allen. Xcalak is even smaller that Punta Allen and Mahahual, if that's even possible, and besides a few luxury resorts just north of the town, there's really nothing to do. There isn't even a store!!
We witnessed the ultimate proof of the nothing-to-do on our first (and only) evening there. Evan (from Mahahual) said he could get us a place to stay for free, since most places offering rooms are the luxury resorts (80 USD and up), which we were not willing to pay for. Evan and Ana have a friend who is from Xcalak, but he is rarely actually there. Ana spoke with him (luckily she called when he was out of Xcalak so she was able to reach him, as there is no reception in Xcalak, of course), and he said we could camp at his backyard. Evan explained how to find his house – at the football field take a left heading north, and it'll be the yellow house after 2-3 blocks; just ask to make sure it's the house of Roberto, better known around the village as "Tortugero". Well, it was just like that – north on the road from the football field we found a yellow house, asked around and it was indeed the one. But Roberto was not there, so we just let ourselves into the yard, and camped. It would have been funny if the owner had not been Roberto and had arrived late at night only to find a tent and two hammocks (were Lu and Konchita slept) under his house…
Since we didn't get to meet Roberto, we left him a note, thanking him for his hospitality.
Heading back from Xcalak to our next stop (off the Caribbean coast, at last!), we stopped again at Evan and Ana's to say goodbye (and enjoy their cooking one last time).
Now we say goodbye to the Mexican Caribbean coast, and are getting ready to head to Belize in a few days.