After the manatees tour, we kept driving into the reserve, towrds the tip of it. There's a small town called Punta Allen; it's so small and remote, that there is electricity only on certain hours, and all the streets are sandy and unpaved. Very rustic… So it's very small and… well, ok, at first we thought it's a little boring. The sea is very warm, we haven't figured out why, and the rooms are SO expensive… Strange.
We were getting ready to leave after only one night, but then ended up staying a few more days, after having discovered the charms of Punta Allen.
We took a nice long walk on the beach, trying to reach the light-house, in hopes of seeing the point where the sea merges with the laguna. It was supposed to be an easy 1 km walk on the beach, but the beach is taken over by the jungle and mangroves, and it was actually 2 km… We did get to the light-house, but the mangroves were too thick to reach the beach again and to Itai's great disappointment, we could not see the merging point.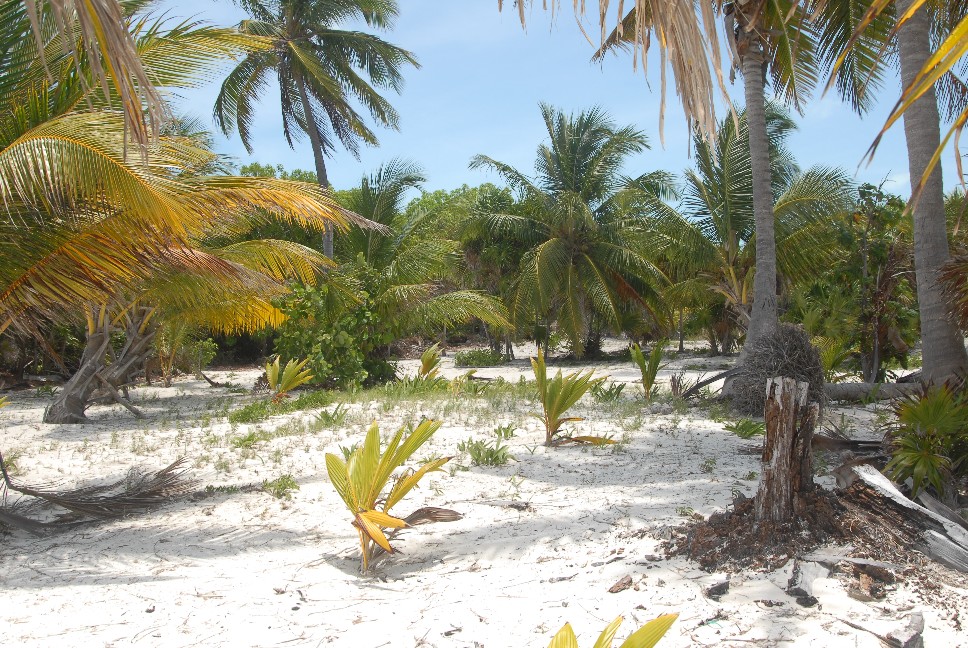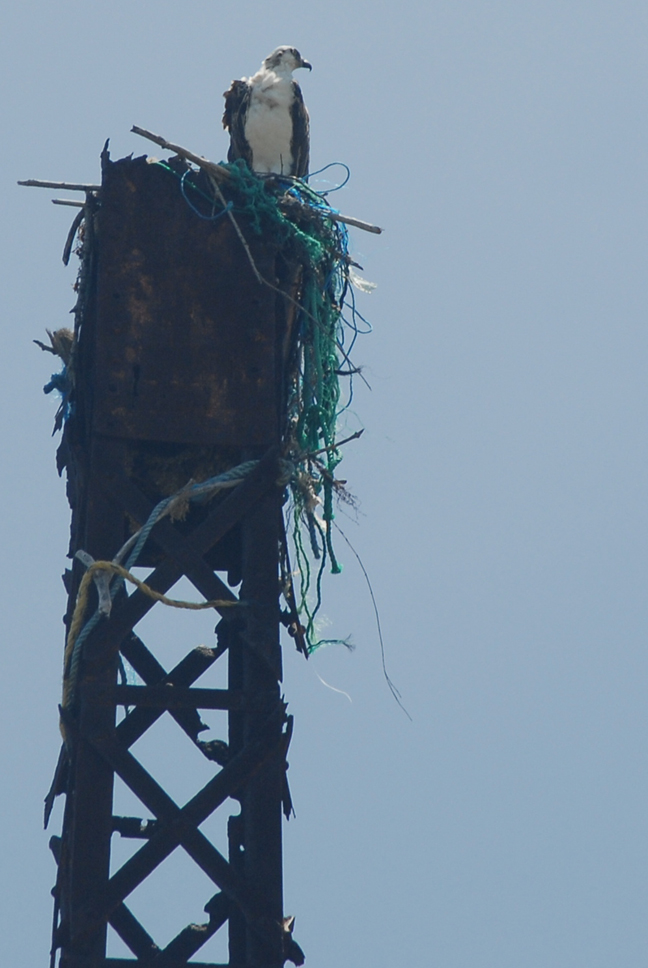 We walked back a little disappointed and quite exhausted, as it was extremely hot. But when we arrived back to town, we found a nice cheap room, not too far from the beach, and since it was getting late, we decided to stay another day.
It was then that we heard of another boat tour worth taking in the reserve; dolphin and turtle watching, a visit to the bird's island, swimming in the natural swimming pool.
The boat is a little expensive, and we were only three, but Itai quickly rounded up the only four other tourists in town – two had already taken the tour, but the other Danish-German couple said they'd join us, and we decided to go the next day. That evening we had a big dinner with everyone…
The tour on the following day was very nice – we saw one big turtle (they're so quick, it's hard to get a glimps of them when they come out for air!), and two beautiful dolphins who hung around the boat for a while. The bird's island was actually only two trees in a middle of the water, with no connection to the land. There are many many birds on them, mostly the black Frigate sea bird, and they nest here, so there are also many little chicks. They nest on these island-trees because here the little ones are safe from snakes.
The strange thing about them, and it took us a while to understand what we are seeing, is the big red balls they have in their throats. The males inflate a throat pouch to impress the ladies, and it is quite impressive.
Besides all this animal viewing, we also snorkeled on the reef, which is far from the beach and has many colorful fish. It's about time we remembered to take the underwater disposable camera we bought; we always forget it…
The last place on the tour was a natural swimming pool, which was a classic Caribbean postcard – turqouize shallow waters, sun, breeze. Wonderful…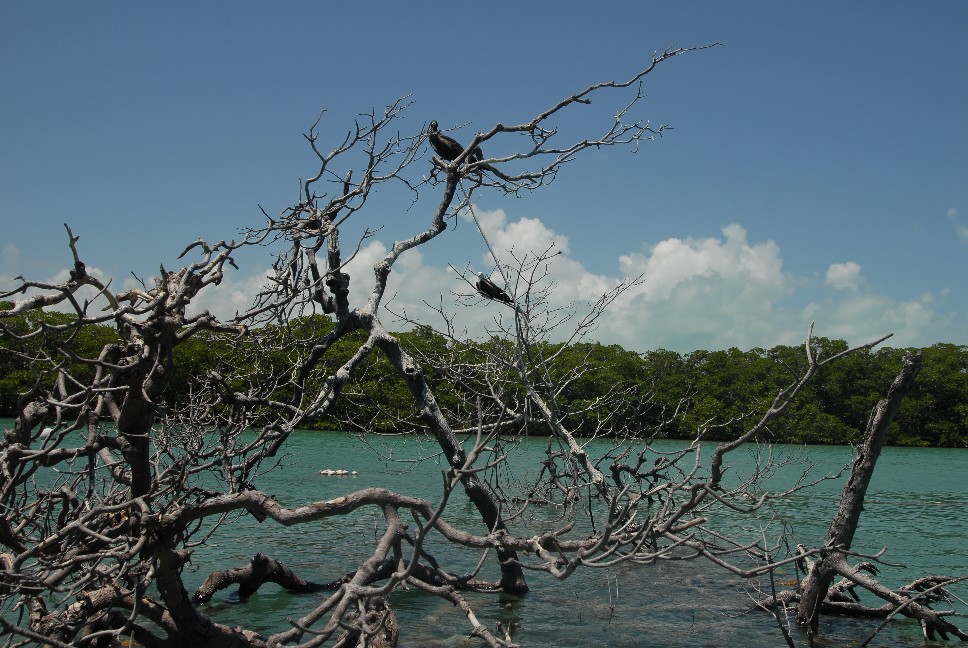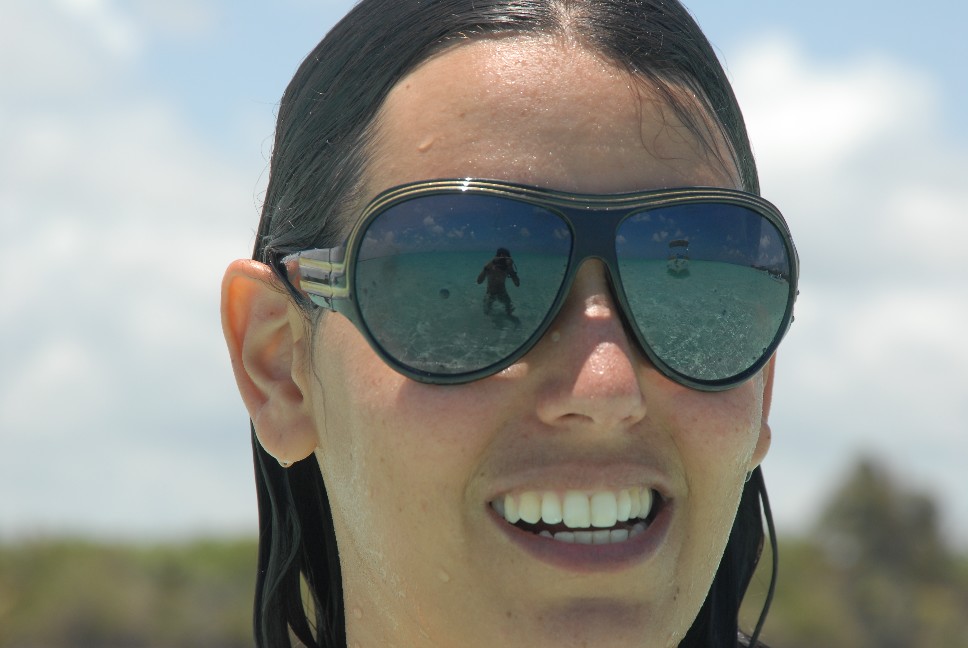 So in the end we realized that Punta Allen, a real end-of-the-world kind of place, is just wonderfully small and quiet and fun and has lots to offer… Here we picked up another fellow-traveller – Alejandra, who is originally a "Defenia" (native of DF, Mexico City, as opposed to Chilanga, who are people who move to DF but were not born there. It's an intricate web of social-background classification). She moved to Holbox (pronounced hol-bosch) a few years ago and fell in love with the tiny island just three hours north of Cancun, and stayed there since. Holbox is quite a rustic place in itself, she tells us; her mom calls it a "puebla bicycleto" – a bicycle town, so small that you can only get around it on a bike. The people in Holbox, the Holboxianians, are different. They don't trust in the new bread, we've heard; someone tried to introduce a different kind of bread than the usual to the island, and did not succeed. After hearing this story, we constantly mentioned how strange the Holboxianians are, not trusting in the new bread…
Alejandra got her nickname Conchita Lopez from Itai after the name of the first place we stayed in at Punta Allen, although Lu protested cause this word has a nasty meaning in Argentinian-Spanish..