Heading south from Tulum there is a biosphere reserve with a laguna that Itai was anxious to see. It started off not too promising, but it really is a beautiful place.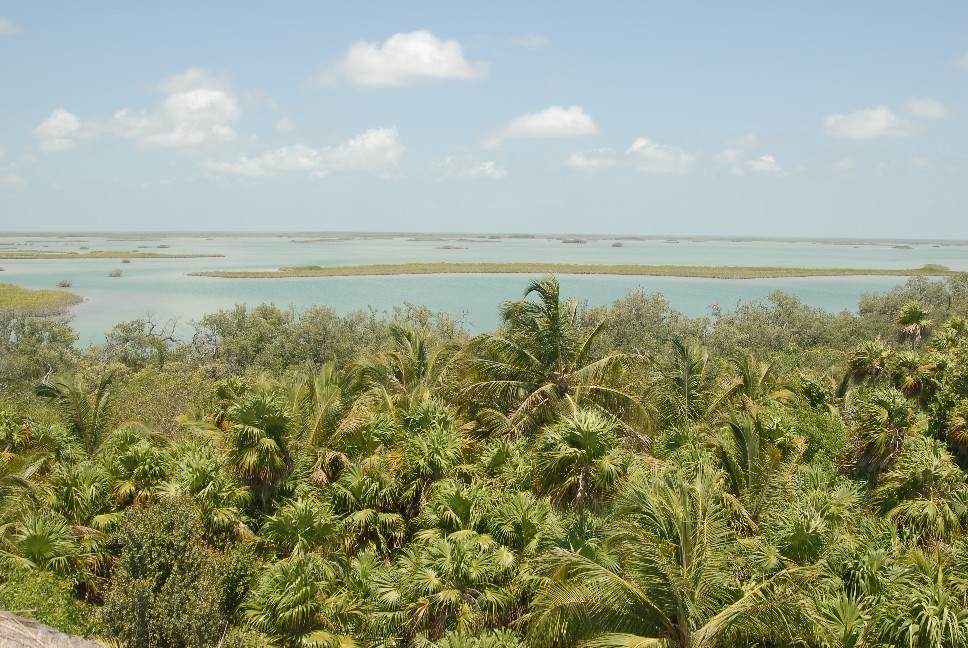 The beginning did not seem promising… After entering the resrve, we were driving for a while on a dirt road, with jungle covering any views of the laguna or sea. There were many private fancy homes along the sea shore, which was even more upsetting.
Then we came upon a small visitor's center, and it had a small tower to climb and see the reserve from above.
The way up the tower was discomforting – only two people are allowed at a time, and the whole thing shakes and rattles at any wind, and it feels very unsafe. but the view from the top was worth it – the laguna is huge and amazing, with lots of vegetation around it, and it merges at some point with the beautiful Caribbean sea and the white sand… It's quite a sight.
When we came down from the rocking-tower, we took a boat tour of the laguna, to see the manatees, sea-cows we call them.
The laguna is not too deep, but there is one spot called "the well" where the water is very deep and there we saw them. Well, we saw them from a distance, and only the tips of their noses.
Besides not having seen the manatees too well, the tour was nice and the laguna is amazing.
Ok, so after the tour I still didn't know what a manatee looks like, but here's a picture from Wikipedia: